School of Windsurfing
707-874-2331
Welcome to the fun and challenging world of windsurfing. We at the Wind Walker School of Wind Surfing are eager to help you learn this great sport the new, easy, fun and safe way.
Windsurfing lessons the easy WIA way
In the past windsurfing had a reputation of being hard to learn. However since 1991 a series of programs developed by "Windsurf Instructors of America" (WIA) have made learning to windsurf easy for everyone from ages 8 to 80. New lightweight equipment has made learning even easier.Our WIA certified instruction program allows you to sail independently and safely after only one lesson. Please check our our four levels of training below.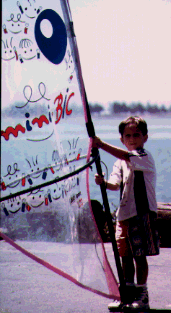 Who can Windsurf?
You don't have to be strong or athletic to master windsurfing. The most important requirement is the desire for fun and freedom. Correct technique counts more than strength. Our WIA certified instructors help you quickly and safely master the basics before you enter the water.
Why our lesson area is special
Once your skill and confidence are ready we take you to our on-the-water instruction area. Here the water is only waist deep and the bottom is firm sand. Unlike other Bay Area sailing areas you don't have to worry about currents or being blown away from your launch site. Best of all the morning wind is perfect for beginners while the afternoon wind is strong unifier advanced sailors.
Bodega is beautiful with clear, clean water and no crowds.
There is beautiful camping right at the launch sites
There are B&Bs and a Holiday Inn within walking distance
The morning winds in the are from 5 to 15 knots.
On a average tide the water is only waist deep and the bottom is firm sand in the lesson area.
The afternoon spring & early summer winds are from 18 to 40 knots
There are 5 launch sites within 1 mile: surf sailing, speed sailing, swell sailing and bump & jump.
I've seen all four levels take me back to home page
---
Here is an overview of the WIA program offered by the
WindWalker School of WindSurfing

---
Level One
CLASS TIME: 8-10 hours, 2 days
WIND CONDITIONS: 5 to 10 knots

DAY ONE:
In this level, by means of classroom and on-land simulator practice, you will learn the basics of independently sailing a longboard. This instruction includes safety, rules of the road and some basic windsurfing terms.

Using recently developed techniques, you will be able to handle the sail with a minimal amount of effort. Once these techniques are mastered, retake you to our shallow on-the-water training site to practice the techniques you learned on land.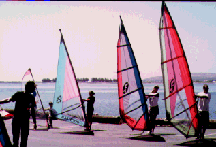 DAY TWO:
This day will be spent reviewing techniques you learned in day one followed by extended on-the-water practice time with instructors. A certification test will be given at the end of the course. This certificate will enable you to rent windsurf equipment at most locations in the U.S. and abroad.
---




Level Two

CLASS TIME: 6 hours, 1 day
WIND CONDITIONS: 5 to 15 knots
In level two energy-saving techniques will be introduced. You will have the opportunity to learn more advanced windsurfing techniques, enabling you to sail in a wider range of wind conditions.This level helps you build progressively the skill to handle shorter more maneuverable boards.
---
Level Three
CLASS TIME: 10 hours, 2 days
WIND CONDITIONS: 15 to 25 knots
Level three is perhaps the most important. The technique of waterstarting is taught in this level. Having mastered this skill you will then experience the greatest independence in the sport of windsurfing!

You will now able to sail comfortably in higher wind and more challenging conditions.

Now you are ready for level 4!
---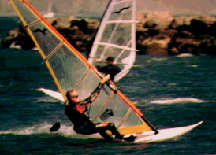 Level Four
CLASS TIME: 8 hours, 2 days
WIND CONDITIONS: 18 to 30 knots
This level brings you to the culmination of our program. By the completion of this level you will have obtained mastery over shortboard control techniques in higher wind and more challenging conditions.

Through the use of advanced energy-saving techniques, you will be able to extend your high wind sailing endurance, and your on the water fun time.

With the conclusion of this lesson begins your life-long passion with one of the most thrilling pastimes you'll ever experience.
Since opening our school we have experienced a remarkable 100% success rate with our students. Our philosophy is: "If you can walk, you can windsurf."It's that easy! Once you learn to windsurf you'll enjoy it for the rest of your life.
Private lessons
Small group jibe clinics
Rental windsurfing equipment.
Special rental rates for students
---
Need more information call us at 707-874-2331
or e-mail at windman@mcn.org

Take back to the top
I've seen all four levels take me back to home page